If you've decided that it's time to get rid of your gutters, there are some things you should know before starting the job. To remove your gutters correctly, you should first disconnect your downspout from your gutter. To do this, remove the elbow or attachment strap from your downspout. Then, unfasten the sheet metal screws holding the gutter corner pieces together. After you have disconnected them, you can remove them with a pair of tin snips.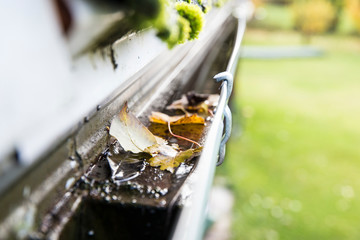 Another important consideration to make is the condition of your gutters. A clogged gutter can signify a larger problem that may require gutter repair. In addition to leaking rainwater, it can cause damage to your siding and roof. A faulty gutter system can eventually collapse. Taking care of this problem is necessary if you're considering a new roof. You'll also want to check the gutters periodically to ensure they're working properly.
Aside from the gutters, other factors must be considered when determining a gutter removal price. Two-story buildings typically require more gutter installation than a one-story structure. The labor involved is much more expensive on two-story homes so gutter replacement companies will charge a higher price. Additionally, there's a greater chance that the gutters you're replacing will be damaged soffit or fascia board. The cost of repairing soffit and fascia board is roughly six to $20 per linear foot, and the average cost is $13.
Before you begin the removal process, you'll need to determine the exact slope of your gutters. This means measuring the slope from the bottom of your fascia board to the nail that holds it to the fascia. Make sure the slope is at least a quarter-inch toward the fascia board. If it's uneven, you can adjust the gutters' height by adjusting the fascia board's string. You can also use an assistant to help you hold the gutter while taking the nails out.
It may be time to consider gutter removal if your gutters are damaged or just plain worn. A damaged gutter can cause significant damage to your home. You can choose to have the gutters replaced by an experienced gutter removal company. The cost of gutter removal depends on the type of gutter you have and its location. When the job is complete, you can install a new gutter. After that, you can install rain-harvesting systems to reduce the risk of flooding.
Gutter removal is often necessary when you need to replace your home's roof. A simple tear-off and replacement may save you a great deal of headaches. After the removal, you should take into consideration the gutters. You can choose to replace the entire roof with a new roof, but you will have to deal with the gutters. This is a complicated process, so be sure you hire a professional.
Using a ladder to remove the gutters can be dangerous, so wear a helmet. It is also important to choose a ladder that is long enough to reach the height you need. Otherwise, you could cause a lot of strain while trying to remove the gutters. Remember to observe all electricity, battery safety, and safe wiring rules while using power tools. If you use a power drill, be sure to use it in reverse, removing the screws from the gutter.
A downspout outlet is an essential part of the gutter system. The outlet should have holes on the bottom to allow water flow. It will prevent any ice from forming and any corrosion or leaks from occurring. If you want to install a new downspout, you can cut the hole in the bottom with offset tin snips. Once you've cut the hole, the next step is to attach the downspout outlet to the new gutters.
Installing new gutters is another important part of home maintenance. Installing gutters that are properly positioned for your home's style is essential. The overhanging portion of your roof also determines where water will run down the wall or enter the house. If you want to install a new gutter, make sure you allow the overhang to be at least 6 inches. This will prevent the overflow from occurring. It will also prevent the water from penetrating the earth beneath your home.