There are many ways to look for a reputable Fence Company. The Better Business Bureau is a great place to begin your search. Here, you can read customer reviews and calculate an overall score. An alternative source for fence company reviews is Angi, where consumers can leave reviews for fence companies. However, newer companies might not have many customer reviews yet, so be sure to ask for local references to be sure you are hiring a legitimate company.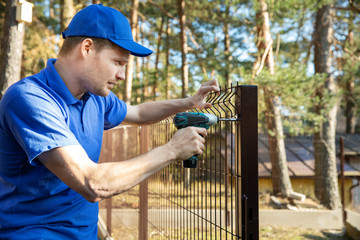 Check the quality of materials used. Fence Installation has sufficient experience in high-security fencing, including experience with the bid process. Furthermore, a contractor should have a good relationship with the contracting officer. If a fence contractor is unfamiliar with a certain company, he may charge more, but the experience will be much more personalized. Fence contractors should also know about sustainable materials and the aesthetics of a fence.
If you have decided to have a fence installed in your yard, you need to find a qualified fence contractor. You can begin your search by checking a fence contractor's credentials. Ensure the contractor is licensed and insured and has access to a utility locator. Ask about a written contract. Do not work on a handshake. When deciding on a fence contractor, ask for a written estimate and the timetable for the entire project. If the fence contractor says they cannot guarantee their work, move on to the next contractor.
Some fence contractors may have accreditations, which means they must follow certain construction and installation regulations. Accreditation ensures that the contractor has met the required construction and design standards and is not likely to commit to substandard work practices. Additionally, accreditations protect consumers from potential liability. In addition to accreditation, a fence contractor should have a strong understanding of building codes that constantly change and evolve. To find a qualified fence contractor, check whether they are accredited.
Before hiring a fence contractor, check their background and reputation. Ask past customers about their experience with the contractor. A reputable contractor will be happy to show you samples of his or her work. Also, check online reviews to find out if the contractor is reputable. Make sure the contractor has a good reputation with the Better Business Bureau. If there are any complaints, you can contact the Better Business Bureau to get them resolved.
When you get an estimate from a fence company, you should understand the project's scope. The company should walk you through the yard, take measurements, and provide a detailed quote for the project. Also, make sure you understand the process and the product they offer. You should also get a spec sheet for the fence company's work before you agree to any price. The contract should include all of the details of the project, from the start date to completion.
When looking for a fence company, make sure that they offer a written contract that clearly states what is included in the quote. The contract should state the total cost, payment schedule, and estimated completion date. It should also state if the company will remove the old fence or clean it up after the installation. In addition, the contract should specify the process and product that is used to build the fence. If you are unsure of the company's credentials, you can ask for references from past clients.
Before hiring a fence company, make sure you understand the timetable involved. The contractor should walk the property with you and take measurements. They should also specify how long the project will take. It would be best to ask how much time the estimate will take, as some companies will only give you two to three months to decide on your project. Make sure the quote is in line with the new fence's time frame and features.
Many local governments have rules and regulations for construction, and fencing is no exception. Fence regulations can vary from city to city and state to state. Before you hire a fence company, you should first learn about the permit process.
To avoid problems once the project has begun:
Follow these steps.
Determine the boundary of your property before you start digging.
If your property has underground utilities, contact Dig Safe to find out where they are.
Obtaining a fence permit can save you from headaches once the job begins. You don't want to damage them and pay for expensive repairs later. Once the permit is approved, construction can begin.