A Roofing Contractor is an individual who undertakes the construction of roofs, which may be of varying sizes and types. When hiring a roofing contractor, you should research to find out more about his work. The process starts by inviting potential contractors to your home and discussing the type of roofing materials you need and the scope of the job. It would be best if you asked about his manpower and the time needed for the project. Make sure to observe the contractor and ask for references if available.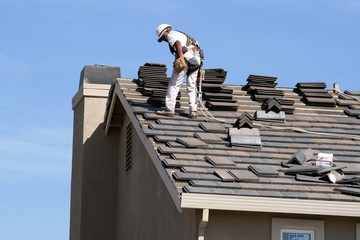 Roofing contractors are licensed to work on roofs and other home exterior components. They have the expertise and experience to complete even the most complex projects and overcome unexpected issues. Roofing contractors have the knowledge and expertise to complete a quality job on time. They will be able to estimate the cost of the work and the type of materials needed. If they have any scrap materials or other discarded building materials, they will properly dispose of them. 
In order to become a roofing contractor, you must undergo training. You can pursue an apprenticeship or seek entry-level employment. You will learn about safety practices and proper materials and equipment during training. If you are looking for a career in roofing, experience in construction or roofing is an advantage. You must be able to use hand and powered tools properly and have the ability to stand on ladders for long periods. It would be best if you were physically fit to work as a roofing contractor.
To become a roofing contractor, you must hold a license from the state. Roofing contractors must obtain a license through some state Department of Professional and Occupational Regulation Board. There are three different license classes, and applicants must pass a trade, business, and law exam in order to receive a roofing contractor's license. You will need to demonstrate you have at least two years of experience in the field before obtaining the license.
Lastly, find a roofing contractor who has an office. Visiting their office will help you see their previous work and ask for references. You can even visit a roofing contractor's job site to view their work firsthand. A good roofer will be happy to show you his previous work. Also, don't be afraid to check their website and social media pages. If you can't find any references, that's a red flag.
Bonding a roofing contractor may help protect you from paying for a repair or replacement due to an accident or damage to your home. Although there are disadvantages to bonding, the peace of mind it brings can make the cost worthwhile. Bonding is more common on industrial and commercial roofing projects, where higher materials and labor costs. The types of bonds used in these phases differ. If you are unsure whether to hire a roofing contractor, check with your insurance company to see if they are insured.
A roofing contractor must register with the Department of Labor before undertaking any work. Roofing contractors in some states must obtain a C-15a roofing contractor license from the State Contractors Board. If you're thinking about getting a license, you should have four years of experience within the last ten years. If your state is not required to license contractors, you may be able to get away with not having a license to work in the state.
Another thing to consider when choosing a roofing contractor is their experience. A licensed and insured roofing contractor is likely to stand behind his work. It's not a good idea to hire a roofing contractor just because he is the cheapest. You can also check on previous jobs with them, which may be advantageous if you ever need to file a claim. If you hire an unlicensed roofing contractor, you may lose your money.