Before you start your countertop installation project, you should have all the materials ready and organized. This way, you will have an easy time preparing and ensuring a successful result. Stainless steel is a popular choice because of its durability and reflection properties. Make sure you choose the material that best fits your aesthetic taste and lifestyle. Here are some tips to help you prepare. Having all the materials prepared and organized before starting the project will save you time and money.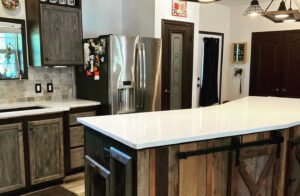 When installing a stone countertop, you should hire a fabricator. This will ensure that the countertop is fabricated correctly and fits the space. Professional fabricators will have the proper tools and knowledge to install a countertop correctly. If you are not sure how to install a countertop, you can follow our step-by-step guide for installation. Once you've finished your countertop installation, you should choose a sealant. Otherwise, it might cause damage to your new countertop.
When you hire a professional to install a countertop, make sure you take extra time to prepare the area before the installation. If you're having your countertop installed on a large slab, you'll need to clear your entryway and the work site. Also, make sure to remove any items that may fall on the installation site. Although most countertop installations are minor messes, you should take some time to shop for the material that best suits your style and your budget.
Consider coloration. Different materials come in different patterns and colors. One type is solid, while another is flecked. The other type is granulated. It has different thicknesses and is very easy to clean. Tile counters are another type of countertop and come in a wide range of prices. In addition to being affordable, they are easy to clean and maintain. Moreover, they are also easy to install and come in many different designs.
Once you've selected the material, you can begin the countertop installation process. Countertops are typically installed after cabinets and flooring. They are placed directly on the cabinets. Sinks and faucets should be installed before the countertop installation process. During the installation process, the lead countertop installer will discuss the care and maintenance instructions. Make sure you understand these details so you can avoid problems in the future. A professional countertop installation process should go smoothly. You can expect your new countertop to last for years to come.
A professional countertop fabricator will make a template of your counter and note any special circumstances that arise in your design. This template is typically made of thin plywood or cardboard. On the day of the template, make sure all of the other fixtures, such as faucets and cooktops, are installed. During the countertop installation process, the fabricator will attach them to the countertop. A backsplash is also necessary for the countertop installation process. When hiring a countertop fabricator, you should also discuss the timeline of delivery and pickup.
If you want to install a new countertop, you must have a template made by a certified fabricator. During the installation process, the new material will be brought in sections and placed on the cabinets. To ensure a level surface, shims should be placed underneath the new countertops. Countertop installation can result in incidental damage to your cabinets or wall. Therefore, you should take precautions to protect yourself from the risks.
The cost of countertop installation varies, depending on the type of counter you want. Some counters are custom-made, while others are prefabricated. Some countertops are cut off-site, while others are prefabricated. In addition, concrete counters are poured into the kitchen. For custom shapes, you can use a balsa wood template to transfer the design onto the material. For this, you should expect to pay a higher price than expected.
It is important to have a well-prepared space for installing a quartz countertop. This will avoid wasted time and extra installation costs. Most new homeowners believe the cabinets are the only important components for countertops when in reality, there are many other things that need to be finished before installing a quartz countertop. Before installation, you should have the flooring and wall paint completely dried. Plumbing and electrical work should be completed. Taking measurements of cabinet tops is an essential step before countertop installation. If you do not, you will waste precious quartz slabs. Make sure the size of the slab fits the opening of the sink.
Before installation, make sure your driveway is clear and free from obstacles. Also, make sure you have someone responsible for the decision-making during the project. Certain things might need to be re-discussed at the last minute. Lastly, sign the completed report when the work is complete. This will ensure that no surprises arise during the installation process. If you are not prepared, you may want to hire a professional countertop installation company. There are many advantages to using a professional.