Whether it's for entertaining or kicking back and relaxing, a deck can turn your backyard into a wonderful space. However, if you're going to build one, you need to know how to do it right.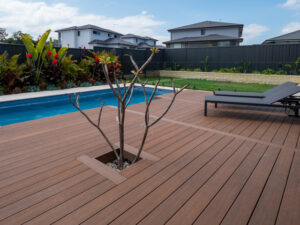 First, determine the height of the deck. This will help you decide where to place the ledger board and post footings. Then, ensure the rim joists are square. However, if you need a professional expertise, you can count on J&R Construction.
Decks are an excellent way to increase your home's value and make the most of the space outside. However, they require certain materials to be installed correctly. The best materials for a deck are not only durable and weather-resistant but also cost-effective and easy to maintain.
The type of deck you choose should be based on your budget, climate, and style preferences. Some popular options include natural wood, pressure-treated wood, composites, and aluminum.
If you want to add a more luxurious touch to your deck, specialty woods like cedar and redwood are available. These are naturally resistant to rot, but you should apply weatherproofing regularly and stain them to keep them looking their best.
Another option for building a deck is to use composite boards that mimic the look of wood without the costs and maintenance. Unlike wood, composites don't warp or rot and are less likely to fade or splinter.
You can find this type of decking at many home improvement stores and online. The most common varieties are polyethylene plastic and wood fiber, but there are many other kinds of composites out there.
Composites come in a wide range of colors, shades, and textures. You can even find capped composites, which are coated with tough plastic to help protect them from the elements.
Regardless of which material you decide on, you'll need a variety of tools to complete the project successfully. A router is an essential tool for creating custom patterns and easing sharp edges, while a sander can be used to smooth out rough spots.
To help you determine which tools to buy, you should consider how much work you expect to put into the project and whether you plan to hire a contractor. You should also consider your skill level and the type of materials you're most comfortable using.
Then, you should determine what size deck you'll need and how many materials it will take to build it. A professional contractor should be able to provide you with an estimate and guide you through the process. To ensure that your new deck is built safely, it's essential to have the proper permits and be sure to schedule a construction inspection.
A deck is a great way to add functional outdoor living space to your home. It can serve as an al fresco family room, a place to entertain, or even just a space to kick back and relax. It can also increase the value of your home.
A good deck design will take the location of your house and the surrounding landscape into account. It should accentuate its advantages and hide its flaws. It should also meet safety requirements and be constructed with durable materials.
Before you start building a deck, check with your town hall to find out about any codes and permits that might be required. This will save you time and headaches later.
Whether you are building a new deck or restoring an existing one, a strong design will help it stand up to wear and tear. It will also help it look beautiful and function well for years to come.
Once you have decided on a design, it is important to make sure that your deck will be square with the structure it is attached to. This includes the building and any other structures on the site. You can use string lines to ensure that the corners are square.