Door Installation Foxboro MA is a craft that demands the utmost precision. Whether you're installing an interior or exterior door, you must get it right first. To start, measure the width of the rough opening. Use a step ladder or chair to do this.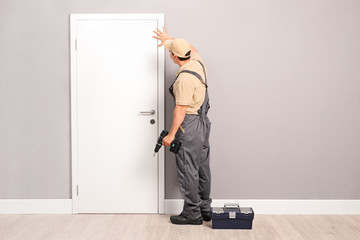 The door frame is the horizontal piece that fits into an opening to hold a door in place. There are various types, from standard wooden frames to aluminum or glass doors. Before assembling the door frame, you must ensure it is plumb and level. This can be done by measuring the frame from one corner of the diagonal to the other and checking that it is level with a spirit level. Once the frame is plumb and level, you can then shim up the sides of the framing. Shims are thin material between the wall and the frame to help align it correctly.
The door jamb is a component that holds the door in place. It also prevents the door from swinging too far out of alignment or tipping over, which could damage the door. The material used to make a door jamb is important to consider when installing one. It can be made of various woods, including hemlock, maple, and pine. Depending on the material, door jambs can last 30 years or longer with proper maintenance. They can also be painted or stained if desired.
Weather stripping is critical to preventing drafts and air leaks around your door. It also helps keep heat from escaping during the winter and cold air from coming in during the summer. Installing weatherstripping on your door can be a simple task, but it is essential to do the job correctly. If you don't do it properly, your home can be vulnerable to drafts that cost you big bucks in heating and cooling costs. Measure the gap between the door and the jamb and choose the right type of weatherstripping to fit your needs. Common types include v-strips (tension seals), tubular inserts, and interlocking metal.
Hinges are an important part of any door installation. They hold two wooden parts together and are available in various styles to suit all doors. Before installing a hinge, you must ensure it fits into the mortise and jamb properly. This is crucial to ensure that the door doesn't sag and that there isn't any friction on either the jamb or the door itself. To do this, you must mark each hinge's on-center placement points using a tape measure. Place a full pin hinge with both wings against the side of the door and press it down with your hand.
Door trim is installed around a door opening on three sides to cover the gap between the frame and the drywall. It's a necessary part of many home construction projects, but it can also enhance your home's aesthetic appeal. Usually, trim is installed by a professional because it requires precise measurement and alignment. Skilled workers have to cut the boards with a miter saw so that they match each other perfectly. Once you've measured and cut the trim, use a high-strength adhesive to attach it to the door frame. Then, nail or glue it in place. If you have uneven walls, shim the trim with wooden pieces to make it fit flush.
If the door is damaged, it will need repairing or replacing. As uPVC doors don't rot or warp, the degree of protection they offer does not decrease over time. Deciding upon a upvc door with a reinforced panel and a fantastic quality locking system can help safeguard your house from intruders for a long time.
There are several kinds of garage doors. They must work dependably and be able to withstand the elements for a long time. When you are buying a garage door from a garage door business in Long Island, you know that you receive quality in return together with professional installation, and you understand that you chose one of the ideal garage doors companies to look after the undertaking.
Garage doors are important portion of your house. They have a wide array of options to fit the individuality of your home and your distinct preferences. Though a garage door can do the job flawlessly for years, they may begin malfunctioning. After all, it is also a major entry point for your home too. For the longest service, it is extremely essential that the door ought to be inspected at least two times per year to make sure its functioning properly. The remote control garage door is presently a crucial convenience.