A kitchen remodels is a great way to transform your space and make it more comfortable and functional. Kitchen Remodeling Tacoma WA also increases the value of your home. It's important to consider your needs before you start a kitchen renovation. You'll want to carefully plan your layout and select materials based on the function and style you're trying to achieve in your home.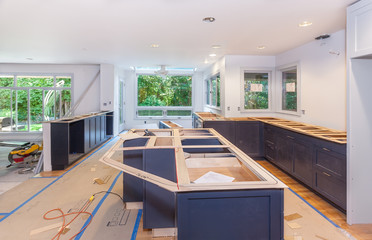 The kitchen is the heart of a home. It's where family and friends congregate for meals, parties, and other activities. If your kitchen is cramped, outdated, or doesn't meet your family's needs, it's time for a remodel. New appliances, cabinets, countertops, and more can help you turn your kitchen into the space of your dreams.
The layout is key to creating the perfect kitchen. Consider gallery layouts for small spaces or L-shaped or U-shaped designs for larger rooms. Think about storage as well. Cabinets, islands, and other pieces can provide much organizational storage.
Having a good plan before starting any home improvement project is essential, so you don't end up with a space that doesn't work for you. Make sure your plan is realistic and that you have enough funds for the renovations.
Design is the process of deciding how your kitchen will look and function. Your goals should be clear so that you can choose options that will support those goals, and help you create a kitchen you'll love.
For example, you might want your new kitchen to have an open floor plan with plenty of countertop and island space. You also might want it to be easy to clean and maintain.
The layout of your kitchen is one of the most important aspects of your remodeling project. It can have a huge impact on the appliances you will need and the way they are stored, installed, and used in your kitchen.
The design of your kitchen should also consider traffic patterns and the flow of people through the space. These issues are essential to the design of a functional kitchen that can be used safely by people of all ages and abilities.
When remodeling your kitchen, the appliances that you choose are often among the most important – and biggest – decisions. The right refrigerator, range, stove and dishwasher will make your kitchen function better, look great and improve your lifestyle.
When shopping for your new appliances, keep your family's needs and preferred style in mind. These things will help you narrow down your choices and create a budget that's realistic for your remodel.
The lighting you use in your kitchen is also very important. There are many types of lighting that you can choose from, including ambient, task and accent.
Having sufficient lighting in the kitchen is essential for preparing meals and keeping the area comfortable. Ideally, you should have overhead lights for general illumination and light positioned underneath cabinets for task lighting.
While it's easy to focus on the big stuff in kitchen remodeling – cabinets, countertops and appliances, you should never overlook lighting. This is a major component that will not only make your space look and work well, but also help you get the most value from your remodel.
The right light will also help you feel confident in your new kitchen. It should be able to highlight your new kitchen's best features while still providing a warm and welcoming atmosphere.
There are many different types of lighting that you can use to enhance your kitchen design, each suited to a specific function or application. Here are some of the most common options:
General illumination – The kitchen is typically a central hub for family and friends, attracting visitors in the evenings as they gather to enjoy a meal or socialize. To create a warm and inviting atmosphere, ambient lighting is ideal, though dimmer switches can be used to control how much brightness you need for your desired mood.
Kitchen remodeling is the process of renovating or updating an existing kitchen to improve its functionality, aesthetics, and value. This process can involve various changes, such as updating the kitchen layout, replacing cabinets and countertops, upgrading appliances, and installing new flooring or lighting.
Kitchen remodeling can be a major undertaking and requires careful planning and budgeting. It is important to consider the needs and preferences of the homeowner, as well as the current trends in kitchen design and functionality. Some common reasons for kitchen remodeling include improving storage space, increasing energy efficiency, upgrading outdated appliances, and creating a more open and inviting space for cooking and entertaining.