The term plumbing refers to the discipline of conveying fluids. Plumbing includes pipes, valves, tanks, and other apparatuses used to transfer fluids. However, it can also refer to a wide variety of different processes and applications. In most cases, it involves using one or more methods of transporting fluids to meet specific needs.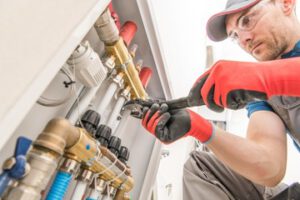 Learning about home plumbing basics can go a long way. Understanding the basics can help you understand how the plumbing system works and identify potential problems before they get worse. If you're an amateur plumber, you'll want to start with the basics, like how water and drains work. Once you know that, you can work your way up to more complex issues, like installing a water heater. Fortunately, there are more than 120,000 plumbing companies, so you can find a service you can trust to maintain your plumbing system.
The plumbing system in your home is relatively simple. It consists of two main systems: the water supply system and the drain-water vent system. Both are designed to ensure that water is safe for drinking, cleaning, and sanitation. It follows the laws of nature to function properly, and understanding the plumbing basics can save you time and money. There are two main systems in a home's plumbing: the water supply system and the drain-water vent system. The water supply system refers to the pipes that channel fresh water from outside into the home. The drain-water vent system, on the other hand, is responsible for removing wastewater from the house.
The water supply system relies on moderate pressure. To avoid problems with this system, the pipes in your home should have a bigger diameter than those in other areas. Most residential plumbing pipes are about 1/2 to 4 inches in diameter. In addition, the wastewater system is less glamorous but is equally vital. It is responsible for carrying wastewater from your fixtures to public sewer systems or septic tanks. When this system malfunctions, it can lead to unprecedented damage to your home.
There are three main types of pipes used in plumbing. One type of pipe is PEX, or cross-linked polyethylene. PEX is the newest type of piping and is used primarily for water supply lines. It is flexible and can be used in both indoor and outdoor environments. Its flexible material makes it a good choice for many applications, including sinks and dishwashers. PEX is also the cheapest type of pipe, so it may be worth considering if your plumbing needs are simple.
The first type of pipe is copper, which is an attractive, shiny metal. As time passes, however, copper tends to turn green. PVC pipes, which look like hard plastic, typically have markings on the outside of the body. Polybutylene pipes are off-white or gray. Regardless of the type of pipe you choose, it is important to hire a professional plumber to make sure it is functioning correctly.
Another type of pipe is made from a material called concrete. This material is usually used for large drainage water, such as a sink drain. However, concrete pipes don't contain any reinforcement and are called pre-cast pipes. Other common types of pipes include PVC, copper, and PEX. Copper and PVC are the most common types, though there are other types of pipe. For more information, see:
Copper comes in several different sizes. The most popular sizes are 15 and 22 mm, but there are also types of copper pipe in 108 mm and 148 mm. Copper pipes come in rigid two and 10-foot lengths. Their diameters range from half an inch to one inch. Copper pipes are also categorized according to the thickness of their walls. Type M is the thinnest copper pipe, which is best for indoor applications, and Type L is ideal for exterior plumbing and gas applications.
The oldest materials used for plumbing systems are galvanized pipes. They are commonly used in residential spaces for the transfer of hot and cold water and are buried underground to move water outside a building. The galvanized coating on steel pipes is designed to prevent corrosion and calcium from building up on the pipes. Although galvanized steel pipe is durable, the coating is susceptible to chipping and corrosion, and the pipes weigh more than other materials. Galvanized steel pipes also pose environmental hazards.